Where my emotional eaters at?!?! 🙈💁🏼‍♀️😩
How about mah girls who hate being told that they CAN'T eat something?!?! 🙅🏼‍♀️🍕
Or maybe you're just overwhelmed by all the different weight loss products and programs out there. 😳
Girl. I GET YOU.
Maybe you're someone who cringes at the idea of working out. Or maybe you like working out but you cannot seem to get a handle on the food side of things. Regardless…let me say it again…
GIRL. I GET YOU + I GOT YOU.
If you are someone who:
Loves eating out

Hates to cook

Eats takeout often

Is constantly "on a diet"

Is a weekday warrior

Beats yourself up over over-eating

Has all sorts of food guilt

Loves to eat food

Is a late night snacker

Loves to travel but falls off the deep end

Doesn't want or like to workout

Loves to workout but struggles with food

Has tried EV-ER-EE-THING and has also failed at it all

Needs a simple, easy to follow guide for how to literally be emotionally F R E E from food right now…
…then this is for you, sister! I'm speaking to Y O U.
Ya'll. I have experienced SO many different types of nutritional theories in the past 4+ years and I know that all strategies are not for everyone. I get that. But my heartbeat is that if you still haven't found a lifestyle that keeps you healthy and in charge, that THIS could change your life. #nomoreyoyodiets
The 2B Mindset is the newest program from Beachbody that focuses on JUST nutrition so that you can gain an understanding of food as fuel and not food as comfort. This program is a great way to change your habits without overwhelming you with workouts at the same time. Of course you are welcome to workout during the program if you'd like, but we are going to focus on losing weight happily by taking control of your relationship with food.
This program was created by Registered Dietitian Nutritionist Ilana Muhlstein as a practical and simple weight loss solution after years of yo-yo dieting. You'll get recipe ideas and meal prep help, plus tips for conquering emotional eating and more.  She has been working on this program with Beachbody for the past 2 years along with many many years of researching and testing on her own to develop this program!!!
2B Mindset is NOT a diet – it's about understanding how to lose weight happily, without feeling deprived or counting calories or cutting out entire food groups. You've heard the phrase "abs are made in the kitchen," right? That's why we are focusing on food as a means of weight loss whiles till keeping it enjoyable! The program includes 6 videos to learn the principles, 5 videos to live the principles in real life, 6 videos full of tips and strategies, and 16 recipe videos.
Want to see some results? A positive mindset truly leads to positive weight loss!!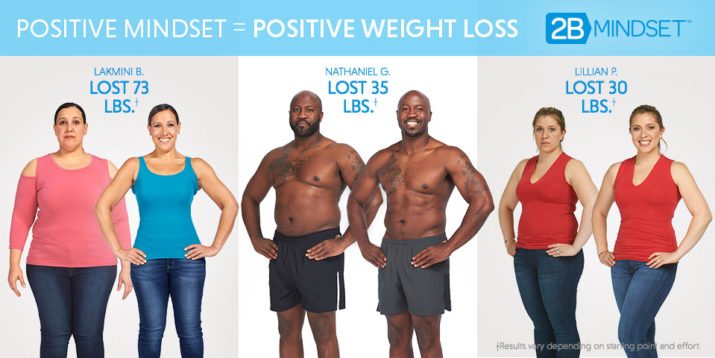 I am going to be hosting a private accountability group for all my girls to help them navigate the nutrition plan, implement strategies, and to be there every single step of the process! If you are interested in learning more about the program and joining our VIP MINDSET MAKEOVER group, CLICK HERE!!!